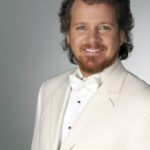 Roanoke City Council recognized David Stewart Wiley, music director and conductor for the Roanoke Symphony Orchestra, as the city's 2015 Citizen of the Year.
The resolution listed Wiley's copious musical achievements, going well beyond his 20 years with the Roanoke Symphony to include his work and performances with orchestras across the country and internationally.
Locally, it cited his recognition by the Roanoke NAACP as its citizen of the year in the arts for his work to bring classical music to minority communities. It also mentioned his family's support of organizations including the Juvenile Diabetes Research Foundation, the Roanoke Rescue Mission, Roanoke Valley Reads, YMCA of the Roanoke Valley, Temple Emanuel and Christ Lutheran Church.
"I know work makes you a big part of our community," said Vice Mayor David Trinkle, "but this award and the meaning behind it goes well beyond what you do in your job."
Other council members echoed that sentiment.
Bowers said Wiley has raised the image of the symphony in the region and the world. "Unlike me," he said, "he never hits a sour note."
Wiley came with his wife, Leah Marer Wiley; her parents; his sister; and his young daughter, Mara, who stepped to the microphone with a few words of her own in support of her dad.
"I'd just like to say he's awesome and he definitely deserves this," she said.